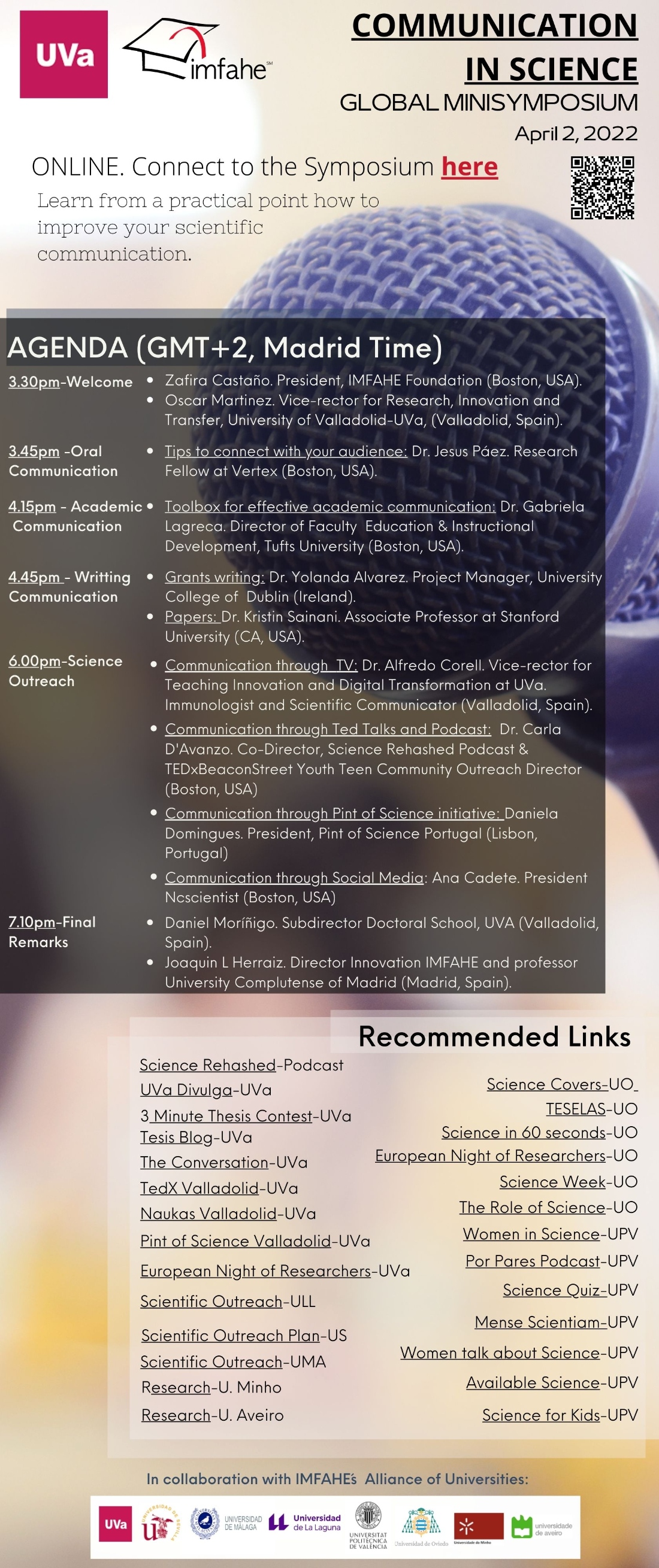 The University of Valladolid (Valladolid, Spain) and the IMFAHE Foundation (Boston, USA) are organizing a free online mini-symposium on Science Communication.
These are the speakers who will participate in the event and will provide participants with valuable information, tools and tips on science communication to the general public and also to the specialized audience:
Dr Alfredo Corell, Immunologist, Science Communicator and Vice-Rector of Teaching Innovation and Digital Transformation at UVa, Spain.
Dr Oscar Martínez, Vice-Rector of Research, Innovation and Transfer of the UVA, Spain.
Dr Zafira Castaño, President of the IMFAHE Foundation, Boston, USA.
Dr. Jesús Páez. Researcher at Vertex (Boston, USA).
Dr Gabriela Lagreca. Director of Faculty Education & Instructional Development, Tufts University (Boston, USA).
Dr Yolanda Álvarez. Project Director, University College of Dublin (Ireland).
Dr Kristin Sainani. Associate Professor, Stanford University (CA, USA).
Dr Carla D'Avanzo. Co-director of Science Rehashed Podcast and Director of TEDxBeaconStreet Youth Teen Community Outreach (Boston, USA).
Dr Daniela Domingues. President of Pint of Science Portugal (Lisbon, Portugal).
Dr Ana Cadete. President of Ncscientist (Boston, USA)
This event will be held on Saturday, April 2, 2022. No pre-registration is required, and this is the link to connect to the event: https://us02web.zoom.us/j/83038578280?pwd=STZnVDl4RjF5aXpWOGNSaFBvWGo3QT09
Attached is the PDF of the agenda with detailed information and active links to interesting websites on science communication worldwide.
Those who would like a certificate of attendance will need to fill out an exit survey after the event.
Please feel free to share this event with colleagues around the world who are interested in science communication.
Here is a 1-minute promotional video: https://youtu.be/6Zt8Y7njjBI
We look forward to seeing you at the global mini-symposium on science communication!!!